Best Overall Eyebrow Tinting Kit: With more than 4,000 reviews, this eyebrow tinting kit is an Amazon favorite for a reason
Best For Beginners: Achieve fuller, darker brows in just three minutes with this easy-to-use eyebrow dye
Best Long-Lasting Eyebrow Dye: This easy-to-use dye has everything you need to get professional-worthy results.
The Best At-Home Eyebrow Tint for Sensitive Skin: Perfect for the brow-obsessed who have sensitive skin.
The Best-Selling Brow-Tinting Kits: This kit has almost five stars on Amazon for a good reason
We make beautiful eyebrows, effortless
Quick: Get bold, glossy brows in under 3 minutes 
Easy: Apply at home in just 3 simple steps
Simple: Brow tint color lasts for up to 4 weeks. Wake up everyday with killer brows
Smudge and waterproof: brows that stay perfect everywhere you go, and through whatever life throws at you
Safe and gentle: plant based eyebrow dye ingredients, perfect for sensitive skin
PETA Certified Cruelty free: Never tested on animals, ever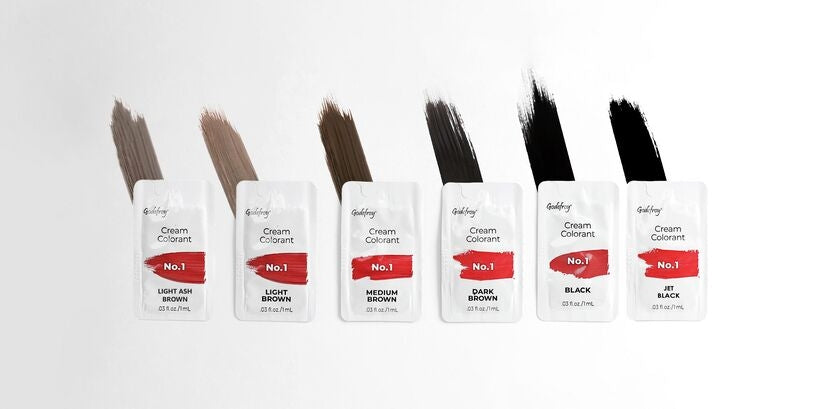 Six different colors to best suit your hair
Instant Eyebrow Tint gives you the same thick, full, brow tint you get in an in-salon service, without the pricey treatment bill or time spent in the chair. Complete brow tint kit has everything you need included
Six different colors to best suit your hair
Instant Eyebrow Tint gives you the same thick, full, brow tint you get in an in-salon service, without the pricey treatment bill or time spent in the chair. Complete brow tint kit has everything you need included
A Better Way to Color
Contains no PPD or hydrogen peroxide. Silver nitrate and iron oxides provide a gentler way to tint lashes and eyebrows with less risk of irritation or allergic reactions.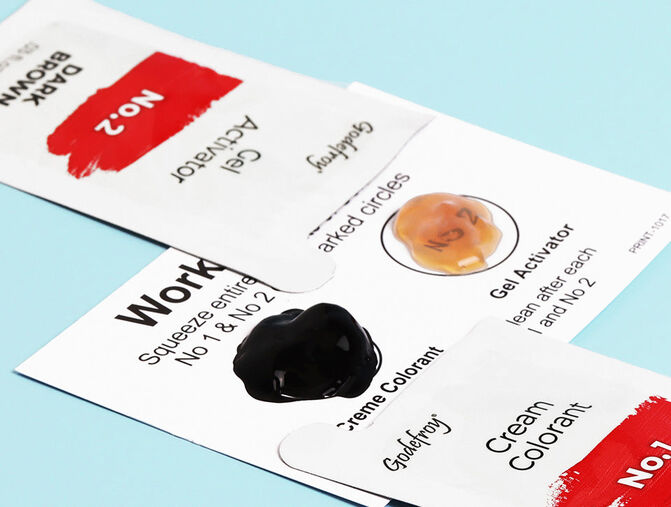 Color Stop Technology
Never go too dark. Instant Brow Tint processes immediately and does not darken over time. The shade you buy is the shade you get, no matter how long you leave it on. Fool-proof and worry free.
Not sure what color you need?
Choose the color that most fits your style.
Real Application, Before & After
Can you spot the difference? Slide the bar to see an unedited before and after application using Instant Eyebrow Tint
2-4 WEEKS OF COLOR EACH APPLICATION

WATER-PROOF, SWEAT-PROOF BROWS

FORMULATED WITH NATURAL INGREDIENTS

SAFE, GENTLE, EFFECTIVE FORMULA
Made in the USA

Small company based out of Dallas, Texas. All products are formulated and manufactured in the United States. Distributed worldwide

PETA Certified Cruelty Free

100% Cruelty free products

3rd party verified by PETA

10,000+ 5-Star Reviews

Trusted Amazon best-selling partner with over 10,000 product reviews.

20+ Years of expertise
Sizes

Applications
Weeks of Color

XS

| | | | |
| --- | --- | --- | --- |
| Applications | SINGLE APPLICATION | 3 APPLICATION | 6 APPLICATION |
| Weeks of Color | 2-4 | 6-12 | 18-24 |

* Estimates based on average activity level and sun exposure. Performance may vary.
Ingredients

Cream Colorant: Water (Aqua), Cetearyl
Alcohol, Sodium Laureth Sulfate, Pyrogallol, Cetearyl Alcohol,
Ceteareth-20, Camellia Sinensis Leaf Extract, Prunus Amygdalus dulcis
(Sweet Almond) Seedcake Extract, Glycerin, Glycine Soya (Soybean) Extract,
Diazolidinyl Urea, Ascorbic Acid, Iron Oxides.

Gel Activator: Water (Aqua), Ammonium Acryloyldimethiltaurate/VP Copolymer, SilverNitrate,
Ammonia Hydroxide
Directions

Thicker, fuller, brows in just 4 simple steps, ready?

Step 1: Prep

Wash your eyebrows with mild soap and water, or use an oil free makeup remover, and dry completely. This makes sure the tint penetrates the hair. 

Then, apply a thin coat of petroleum jelly around the eye brow. 

This prevents your skin from accidental staining. 

Step 2: Apply Solution One - Cream Colorant 

With the enclosed applicator stick, apply solution one onto the eyebrow. Generously cover the full length of your brow hairs with the cream colorant, and then let it stand for 2 minutes. Completely remove with a dry tissue.

Step 3: Apply Solution Two - Gel Activator 

Wipe the applicator stick clean and apply solution two directly to your brow hairs. Let the gel stand for one minute. 

Step 4: Clean

Wipe clean in the direction of hair growth, using a damp tissue or cotton ball. 

Enjoy your fresh, beautiful brows!

Note: Please perform an allergy test 48 hours before using the product. 

Even though we use natural, plant based ingredients, with NO Hydrogen Peroxide or synthetic dyes, we want to make sure your skin doesn't react.
Shipping and Return policy

Same day processing with 3-5 day shipping.

Standard shipping: $2.99 Free shipping on orders over $35

Standard shipping eligible anywhere in the US. $14.95 shipping to Mexico and Canada

30-Day return and refund policy
Customer Reviews
I have been using Godefroy products for years, but their new version of the eyebrow tint is a step above. The presentation and usability are improved, including a stain removing vial. I have tried other products, to which I have had bad reactions, but this new Godefroy product is excellent.

Godefroybeauty.com Customer

I've used other eyebrow tint kits this by far is the best. Two simple steps you are done in less than five minutes. It's great.

Godefroybeauty.com Customer
Need Help?
Here are some frequently asked questions. If your questions are not answered, please reach out to us through either our live chat, or contact us with our information below:
Email support@godefroybeauty.com
Phone (800) 854-9809
Average response time 2 hours
How do I know which color to get?

Instant Eyebrow Tint is deposit only, meaning you can only go darker or cover gray. Makeup artists suggest you tint your eyebrows one shade darker if you have light hair and one shade lighter if you have dark hair. Another suggestion is to match your brow color with the color of your hair.
I need help on how to apply!

We understand tinting could be an intimidating process. If you have difficulty applying cosmetics it may be best to have a friend help you. For further guidance please click here to see a full application video which walks you through the step-by-step process
How can I use this to stain the skin as well as the hair?

Staining of the skin can occur on skin beneath the brow hair but will dissipate in a few days. Please refer to the instruction sheet on how to effectively stain the skin for a more dramatic effect.
How long does one application last?

About 4 weeks, however times vary based on your activity level and sun exposure. Increased exposure with sun and water could lower the lifespan
Can this be used on eyelashes?

Yes, Instant Eyebrow tint can be used to dye the lashes
Does this come with everything I need?

Yes, the kit is complete with everything you need to complete the tinting process
Can I go swimming after application?

Yes, you can enjoy all outside activities immediately after tinting. The formula is waterproof and sweat proof.
Can I use shampoo afterwards?

Yes, it holds up to shampoos and conditioners. Excessive washing may increase fading over time.
Is this like Henna hair color?

No, Henna is a plant based product that is only a temporary color. Permanent henna hair colors contain PPD as their active ingredient, making it unsafe for lash and brow tinting and increasing the chance of allergic reaction.