Regular price
Sale price
$14.95 USD
Unit price
per
Sale
Sold out
Silver Fox Gray Enhancing Beard Cream

118 ml/4 oz.
Product description:
Introducing Silver Fox, the ultimate leave-in beard whitening conditioner for gray and white facial hair. If you're tired of dull, yellowish, or brassy tones in your beard, this conditioning formula is here to help. Say goodbye to lackluster facial hair and hello to a brighter, healthier-looking beard with Silver Fox.
For years, women have used purple shampoo to reduce brassiness out of their naturally grey or white hair. We took this same technology and optimized it as a leave-in beard conditioner. This unique formula is specially designed for men's beards and is enriched with natural ingredients that work together to instantly brighten up your facial hair, leaving it looking healthy and radiant.
How Silver Fox Beard Whitening Cream works: Yellow and brassy colors are neutralized into grey and white through the law of complimentary colors. By applying a violet color to the beard, Silver Fox counteracts yellow and brassy hairs to make a more even, white tone. Silver fox is not a permanent beard bleach or beard dye. Permanently tinting a beard white requires the use of harsh bleaches and chemicals which will cause irritation to the skin and mouth area. Silver fox is a safer and less permanent solution.
Using Silver Fox Grey beard whitening cream is incredibly easy - simply massage a dime sized amount into your beard each morning, and you're good to go. It's a leave-in conditioner, so you don't have to worry about rinsing it out, and it works all day long to keep your beard looking bright and healthy. If you use too much, simply wash your beard and the violet will wash away.
In addition to its brightening effects, Silver Fox also works as a beard conditioner to encourage healthy growth and fullness, with a fresh barbershop scent for a sophisticated feel.
This powerful leave-in conditioner is easy to use, effective, and made with high-quality natural ingredients. Try it today and discover the difference it can make for your beard.
Absorbs quickly
Leaves no greasy residue
Conditions & Shines
Share
Ingredients

Water, Propylene Glycol Debenzoate, Polyquaternium-37, Hydrogenated Polydecene, Trideceth-6, Polyquaternium-7, Polypropylsilses-quioxane, Isododecane, Bis-Hydroxy/Methoxy Amodimethicone, Cyclotetrasiloxane, Phenoxyethanol, Caprylyl Glycol, Ethyhexyl Glycerin, Hexylene Glycol, Cyclopentasiloxane, Dimethiconol, Fragrance, Guar Gum, Violet #1
How to use

Apply to clean, towel-dried facial hair. The amount to use will depend on the length and condition of your facial hair.

It is best to start with a small amount(about 1 inch diameter/25 cm). Massage into palms of hands and apply evenly from roots to ends. Do not rinse out. Continue to apply until you have reached the color and brightness that you desire. Recommended to use every other day or when needed.
Return policy

Your satisfaction is always our top priority! We continually strive to make the return process easy and hassle-free for our customers. Returns Policy

Merchandise must be returned within 30 days from the time you receive it in order to receive a refund or exchange.To ensure a prompt, accurate refund or exchange, please include your name, address, and reason for the return along with your receipt and mail it to:Innovative Beauty Products, LLCPO Box 174915Arlington, TX 76003  All credits will be placed on the credit card used for the original purchase, less postage and handling.Allow 1 to 2 billing cycles for the credit to appear on your statement. We can only offer a refund to products purchased from our website,www.godefroybeauty.com
View full details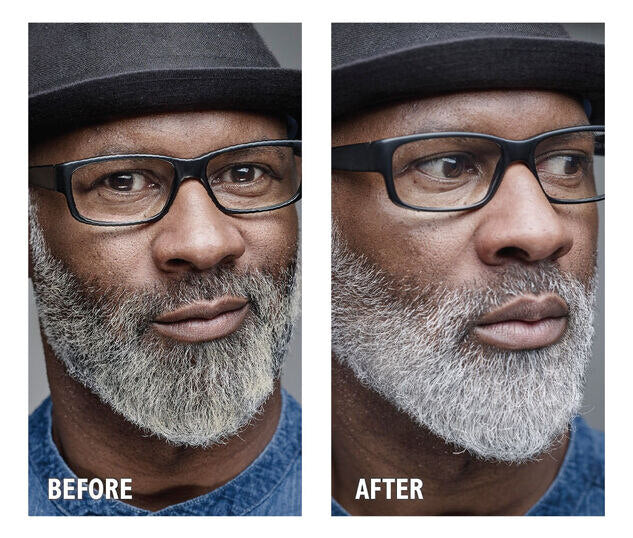 Frequently Asked Questions
My beard has a blue tint to it.

You have used too much product. Just wash your beard with shampoo and it should rinse out the color. Try again with less product, about a nickel sized amount.
How often do I need to apply it?

Two to three times a week.
How much do I use at a time?

This depends upon the length of the beard.  Start with a nickel size amount and build up from there.
Do I need to rinse it out?

No, this is a leave-in product that will also condition and shine.
Will the solution rub off on my clothes?

No, it absorbs quickly and leaves no greasy residue.